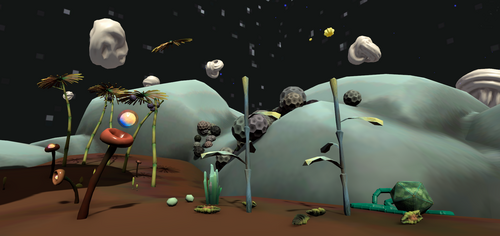 I've just posted the June build for Gravity Garden.
I spent a good chunk of time updating the project to use Unity v5.6. Overall a smooth update but I did run into a few small problems related to materials and GPU Instancing. But the good news is that GPU Instancing is now working along with Single Pass Stereo Rendering. This setup wasn't working properly for me in Unity 5.5. Kind of important since I've designed the game to take advantage of this combo which gives us the ability to have thousands of individual mesh objects and still maintain 90 fps.
You'll also see the beginnings of the harvesting and inventory systems. You can harvest water from clouds, energy from the yellow stars, and fertilizer from planetoids. And speaking of clouds - new cloud system! More dynamic and interesting clouds created with Unity's particle system. I've also added the ability for players to apply new colors and image effects to the scene.
See the Release Notes for a full list of changes.
Harvesting of fruits did not make it into this build - still working out the kinks. I may have another update towards the end of the month that will include this feature.
Thanks for supporting my indie gamedev efforts and have fun with the new build. As always I am open to any and all feedback.
Files
gravity-garden-win.zip
448 MB